SOP Center
Resource for 199 SOPs / SOGs and EMS Protocols in Multiple Formats
Based on the FEMA FA-197 guidelines, SOP Center is a reference and resource for Firefighters and EMS professionals so you can improve your processes and perform your responsibilities as effectively and efficiently as possible. Details about the SOP Center Approach can be found here. Feel free to download and explore all the documents available on this website. See the menu items SOP / SOG List and EMS Lists for a comprehensive list of documents.
All the individual downloads are in pdf format and are freely available. In addition, we offer a document management system that contains all the SOPs / SOGs and EMS Protocols in a an editable format. This can be downloaded as a free trial with the option for purchase.
The editable SOPs / SOGs and EMS Protocols in the document management system also contain the following features:
Built-in scanner (TWAIN) support giving the ability to scan paper documents directly into SOP Center.
Integrated workflow capability thus allowing input from others using your email system
Importing and exporting of files
Complete historical record of all changes made in the document management system
(click to enlarge)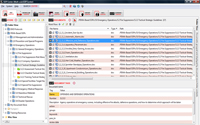 USFA Active Shooter Guide
Being fully prepared for active shooter emergencies is critcal for first responders. We have provided the USFA's pdf Fire / Emergency Medical Services Department Operational Considerations and Guide for Active Shooter and Mass Casualty Incidents (235 KB) in the Downloads section of the website.
Who's Online
We have 108 guests and no members online